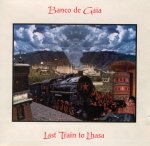 toby mark's second commercial release, last train to lhasa, sees him build on the foundations he laid with maya, released in 1995. better known as banco de gaia, marks has further refined his work, blending eastern influenced sounds with his unique blend of electronic sounds and melodies. as with global communication, he craftily creates a unique sense of space which helps to heighten the emotion of each track.
a double cd, last train to lhasa is an instrumental album blending a variety of musical instruments and native chant. for all tracks banco de gaia has blended a large library of original sounds to create a spare range of tracks, from ambient to dance. all of the tracks are heavily rhythmic in nature, blending drum beats and percussion to create a track well suited to a music festival or nightclub. the underlying rhythm of each track is normally not revealed until a few minutes of laidback sounds full of melody and space, and often interwoven with spoken word samples. the diversity of the album is such that on one track, kincajou, marks has done both an upbeat 6-minute dance version with pounding beat, and an equally impressive 35-minute ambient version lush with atmosphere and sense of space.
for this cd, the majority of the sounds are eastern in nature. this reflects the titles of some of the tracks (china [clouds not mountains]), and references about tibet in the liner notes. there are a variety of male and female chants, with some being altered to be used more as an instrument. one minor flaw with the album is that some tracks seem to repeat too often or have too much of an interlude (amber, 887 [structure]). overall, however, last train to lhasa is an original work that further expands on the variety of quality of electronic music blended with traditional instrumentation and chant. it highlights marks' ability to use modern technology to create a unique and original sense of atmosphere which results in a rewarding listening experience.