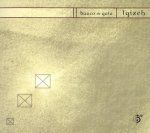 note: the review, at this point, is based on a few listens using headphones only since I received the album at the start of september. it may change over time. this review has been difficult to write both due to being in closer contact with the artists involved than usual, and learning some personal stories behind the tracks.
opting for little gap between studio albums banco de gaia presents us with igizeh, thought to translate to the word "vacation" in egyptian arabic. with some tracks recorded inside the great pyramid of giza, the temple of seti 1 at thebes, and other locations in egypt, its influences are obvious. most chants used are eastern in influence, and instrumentation follows suit. Whereas the tracks on the magical sounds of banco de daia, the previous studio album, are more commercial and accessible those on igizeh are more diverse and challenging.
for this album toby marks, the man behind banco de gaia, uses original, unsampled female vocals for the first time. these emotionally stirring vocals, provided by the talented jennifer folker, a little known vocalist from portland usa, both enhance and hinder from marks' sound. while enchanted by folker's unique voice the listener is, at the same time, devoid of the combination of sounds that marks so brilliantly layers together to create renowned atmospheres and soundscapes. on glove puppet, for example, folker's vocal is so dominant that the lush strings merely become background fodder supporting her voice. contrasting this, however, are some emotionally stirring lyrics. harking back to the days of big men cry, this album also shows greater use of live instrumentation instead of the heavy use of samples. ultimately it is this mixture of live instrumentation and vocals that provides the listener with an album born more of experimentation and less with lush layers of atmospheric sound.
strongpoints of the album include seti 1, with its layered introduction blending muffled chants, deep electronic chords and whirling sounds that gradually build to an infectious dub; obisidian with its catchy melody and brilliant blend of sounds & vocals; and b2.
all criticisms aside, full kudos go to marks for continuing to provide albums that are both diverse in sound, and progressively different & more challenging than previous releases. as marks states in the liner notes, it is a "continuing banco saga". igizeh is an album that, while unlikely to be commercially attractive, will none the less please many banco and global trance fans alike. He continues to both please and challenge those willing to join him on his saga.
briefly stepping through a few of the tracks:
seti 1 8:42
seti 1 is the name of a the temple in thebes, which is one of the places where banco de gaia recorded in egypt during november 1999. seti 1 is most reminiscent of the general sound presented in the magical sounds of banco de gaia. it is also one of the strongest tracks on the album that gets a fast, festive feel to the music ahead in a very short period of time. this is mostly achieved through its heavy use of chant and percussion at the start of the track, transgressing into female vocals and a foot stomping dub.
obsidian 7:06
banco de gaia's first vocal effort begins sounded very much like the orb's little fluffy clouds, with faintly cohesive female spoken word over electronica. this soon changes to a catchy tune enhanced greatly by the ethereal vocals of jennifer folker, a reasonably unknown vocalist that toby marks met in portland, oregon last year.

while perhaps the most commercially sounding banco de gaia track to date, and already confirmed to be the first single, obsidian is a brilliant track. marks gracefully blends electronics and the natural beauty of the female voice to provide a song rich in sound.
creme egg 5:49
contrasting the commercial sounds of obsidan, banco de gaia goes to the other extreme with creme egg. an interesting title, most likely in reference to a lovely chocolate snack, marks spends most of the track greatly manipulating a male vocal chant. some may go as far as to argue that he has shown disrespect for its origins due to just how much he manipulates it, throwing it from speaker to speaker and stretching its sound. it is here that we first get an idea that marks may be experimenting on the album rather than trying to appease a record label or going for safe sales. unfortunately, while the track is an interesting insight into marks' talents, it is too incohesive to make for comfortable listening.
glove Puppet (Vocal Version) 4:12
featuring as a brief instrumental on banco de gaia's previous album, here jennifer folker adds strongly emotive vocals over a fairly exact copy of the original.
sixty sixteen (for karina) 6:40
originally written around two years ago, this track is dedicated to karina duggan, the wife of banco de gaia's drummer, who recently died.
the album is released in europe on September 25, 2000 and in the u.s. on september 26, 2000. it can be ordered in advance in the u.s. from cd now and amazon. it is not yet listed in u.k. stores.