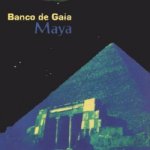 a sampled door creaks open, birds call out and a bubbling melody springs up to greet you. you have entered toby marks' and andy guthrie's world of ambient-techno. the album maya contains some great material, just the thing to dump onto tape, to be played on a microdeck while you go cycling, blading, windsurfing... or even just walking around your local city-scape.
this music lies somewhere in the territories that groups such as art of noise, colorbox, byrne & eno's bush of ghosts, bomb the bass have explored in different ways in the past ten years. hell, some of it harks back all the way to some of weirder stuff that alan parson project recorded on their first two albums.
the first track heliopolis, is an fine example of contemporary techno pop. the second track, with a sampled child's voice ('mommy, can i go watch the rabbit?' - fatal attraction, i wonder?) and its eerie intro point the album in an unexpected direction; the world sound of mafich arabi introduces a dimension to what otherwise could have been an all too predictable techno thumpfest. sunspot certainly confirms the techno influences, with a bassline designed to make your woofers crank out enough air to inflate a dirigible.
the fourth track gamelah brings back the world influence; the liner notes even go so far as to mention the source the major sample: ritual music from bali, vols. i & ii. the high point of the album is qurna (mister christian on the decks), a insinuating ambient piece best consumed flying over a city grid, or driving through an electrical storm on a deserted country road. this then fades in via a wicked helicopter sample, to sheesha, a more upbeat piece. the techno/trance sledgehammer is never far away, but securely held in place.
lai lah (arrgh, these songs which can not be typed in ascii) is probably the nearest reference to my life in the bush of ghosts. it is in some ways reminscent of the instrumental work on anne clark's hopeless cases.
in short, this album is in the right place at the right time. well produced, and a cohesiveness that never falters from start to finish. a bit of guitar work here and there, wasn't that a sample of cary grant?, deployed on a rich weave of samplers and sequencers.
the only reservation about this is that i wonder how well it will age. i have a sneaking suspicion that in ten years time it will seem somewhat passe, but then, hey, why worry about the future? i give it an eight out of ten.