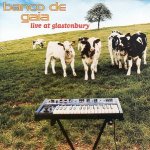 the sound of toby marks is hypnotic yet driven. timeless music that could only happen now. marks, a.k.a. banco de gaia, travels around the globe picking up exotic sound samples from spiritual chants and instrumentals. he then sets them to imaginative electronic compositions which amplify and, yes, sometimes funkify the celebratory religiosity of his samples of indigenous music. marks' live set employs a "strobe flower" light show, which is a visual delicacy that is rarely used in clubs. if one could realistically stop from dancing and gawking at the light show long enough to think critically, one might say that seeing banco de gaia live isn't that much different from cranking the cd on your home stereo (although it might be difficult to fit a prohibitively expensive lighting system and a thousand sweaty strangers in one's bedroom).
for that very reason, live at glastonbury is every bit as good as banco's two full-lengths, maya (planet dog, 1994) and last train to lhasa (planet dog/mammoth). it may even be a tad better since he's entertaining the crowd at a humongous festival in england (the equivalent of our woodstock), not going off on odd tangents in his home studio at three in the morning. his tracks are impeccably chosen from his own catalog and fit together in the mix like puzzle pieces. most notable are the visionary title track to last train to lhasa, the powerfully tribal kuos, and, from their debut, the majestic heliopolis which is just about as close as anyone's ever gotten to evoking tangible patterns of color with music. there's one exclusive track as well, called data inadequate.
unfortunately, as is explained in the liner notes, an entire part of the song 887 had to be edited out of this set because a vocal sample hadn't been legally cleared by the time the album was to be released. the absence of this part is barely noticeable on the album, but it does raise questions about values, specifically the eternal conflict between excellent music and the almighty dollar.