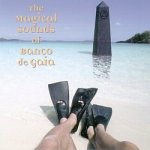 FUN. all capitals, baby. banco de gaia's newest album is a gas. it's going to sound good when you're a bit worse for the wear in the wee hours, it'll sound great when you bounce out of bed on a sunday morning. toby marks has tapped into a great spiritual uplift that will do wonders for your chi. either that or he's really good at making very happy music. whatever.

people who think of banco as an "ambient" act may be shocked by the allupinyerface beats on opening tracks i love baby cheesy and harvey and the old ones." even banco's biggest club anthems - heliopolis and mafich arabi come to mind - didn't operate at these kind of heart-racing tempos, and if harvey... doesn't make it onto the next sasha and gigweed mix there's something rotten in the state of trance.

marks still excels at slow-burn ambient dub, too, and sinhala and frog's dinner are vintage smoker's delights. the most encouraging thing about this album is the number of melodic and dynamic hooks it packs - whatever the tempo. phrases like "fusion techno" and "ambient worldbeat" probably scare off a lot of punters, but make no mistake - this is electronic music at its most accessible. magical sounds indeed.

if you like banco de gaia, check out:
banco de gaia maya / live at glastonbury
orbital middle of nowhere
astralasia astralogy
ali farka toure and ry cooder talking timbouktou
sasha and digweed northern exposure
hometown: london, england
formed: early 90s

personnel:
toby marks - music

related artists:
transglobal underground, neil sparkes and the last tribe, astralasia, eat static, children of the bong, timeshard, moodswings

notes:
toby marks took a long-standing curiosity about tibet, a dodgy prog rock background, and a dash of acid house and turned into that rarest of things - fusion music that was more than just math. as part of a surprisingly fertile ambient/ethno/trance scene in the early '90s - based in london's whirl-y-gig and club dog - banco captivated in-the-know dance fans with his first proper lp, 1994's maya. as much of the scene waned in the later part of the decade, marks held his ground, releasing three more excellent studio albums and one classic live cd (live At glastonbury) in the '90s.